Game of Thrones season 4 [HDTV] 720p download torrent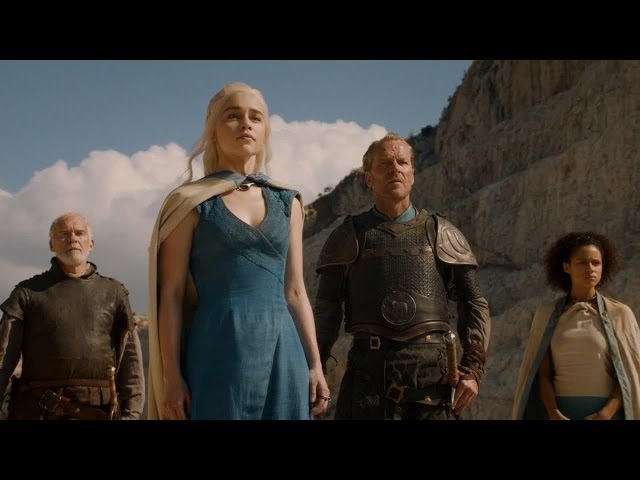 The fourth season finds King Joffrey preparing to wed Margaery Tyrell (Natalie Dormer), as Jaime Lannister seeks to rekindle his relationship with his sister Cersei, while Daenerys add more people to her army, and Castle Black is about to be attacked by Wildlings.
Show torrent description
Torrent Description
Episodes:
S04 E01: Two Swords;

S04 E02: The Lion and the Rose;

S04 E03: Breaker of Chains;

S04 E04: Oathkeeper;

S04 E05: First of His Name;

S04 E06: The Laws of Gods and Men;

S04 E07: Mockingbird;

S04 E08: The Mountain and the Viper;

S04 E09: The Watchers of the Wall;

S04 E10: The Children.
List of extras:
Bastards of Westeros;

Deleted Scene: Bronn and Shae;

Deleted Scene: Dany and Missandei;

New Characters & Locations;

Season 4 Blooper Reel;

The Fallen: A Roundtable;

The Politics of Power: A Look Back at Season 3.
Histories and lore:
Dragons;

House Baelish;

House Martell;

Justice of the Seven Kingdoms;

Poisons;

Robert's Rebellion;

Sellswords & Hedge Nights;

The Bastards of Westeros;

The Death of Kings;

The Iron Bank;

The Kingsguard: Bronn;

The Kingsguard: Jaime Lannister;

The Maester's Chain;

The Nations of the North;

The Wall;

Valyrian Steel.
Hide torrent description
Warning!
Torrent info
Torrent size:
6.46 Gb
Number of
episodes:
10
Duration:
09:05:57 (episodes: ~55 min per episode)
Languages:
English
Subtitles:
English for Non-English Dialogue (default) (.SRT, muxed in) Czech, Danish, Dutch, English, English for Non-English Dialogue, Finnish, French, Greek, Norwegian, Polish, Portuguese (Brasil), Spanish (Castellano), Spanish (Espanol), Swedish (separate .SRTs)
Quality:
HDTV
Resolution:
HD 720p (1280x720, 16:9)
Format:
Matroska (.mkv)
Video:
x264 (Format Profile: High@L4.1), 23,976 fps
Audio:
AC3, 5.1 channels, 384 kbps, aac, 2.0 channels, 96 kbps (commentaries)
Info Hash:

6DB99FD022BB411CB0902D1007A027A119880D68
TV show info
Release date:
April 6, 2014
Genre(s):
Adventure, Drama, Fantasy
IMDb rating:
9,5

/ 10

Country:
United States
Film Director:
Alan Taylor
Actors:
Lena Headey, Peter Dinklage, Emilia Clarke, Kit Harington, Sophie Turner, Iain Glen, Maisie Williams, Nikolaj Coster-Waldau... and Kristian Nairn as HODOR!
Links:
Wikipedia IMDb
Category:
TV shows Fantasy
No comments. Be first!